Nutrition Coaching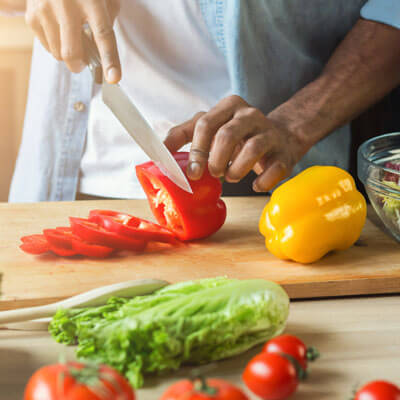 Between drive-through dinner dashes and microwavable meals, it's no surprise that many people don't get the nutrients they require. At PGA Chiropractic Health Center, we want to help our patients get the nutrition they need to enjoy optimal health and wellness!
A Practical, Food-Based Program
With our program, we aren't going to try to sell you products or supplements. Our approach is highly based on food. Our goal is to teach you which foods you should be buying and purchasing and eating. The program is practical, easy and effective.
Some Tasty Tips
Nutrient-dense foods don't have to be boring. We can help you make things sweet, salty and overall flavorful—and still healthy! After all, if something doesn't taste good, you're likely not going to eat it.
We find that many people don't know how to prepare their foods and they don't know which ones are good for them.
If you have a clinical illness such as thyroid disease or diabetes, for example, we can devise a nutrition protocol to meet your needs. First, we will do blood work and see what can be improved through supplementation. If you have diabetes, we will aim to lower your blood sugar. If you have thyroid disease, we will seek to improve your thyroid production.
If you're wondering if nutritional counseling can benefit you, we invite you to book a complimentary consultation. When you come in you will meet with a doctor for 15 minutes.
After the consultation, you can move forward by getting coaching for three months, followed by blood work and supplementation. You will be given a detailed report that helps you understand where you are in terms of your nutrition and how to get to the next step. In addition to providing nutritional guidance, we can answer questions such as "Should I try fasting?" or "Is it okay to eat at night?"
Get Started Today
Take that first step toward being healthier. Contact PGA Chiropractic Health Center to book a free consultation for nutrition coaching in Palm Beach Gardens!
CONTACT US »

Nutrition Coach Palm Beach Gardens, North Palm Beach, Juno Ridge, Cabana Colony FL | (561) 775-9111