Meet Dr. Jeffrey Brown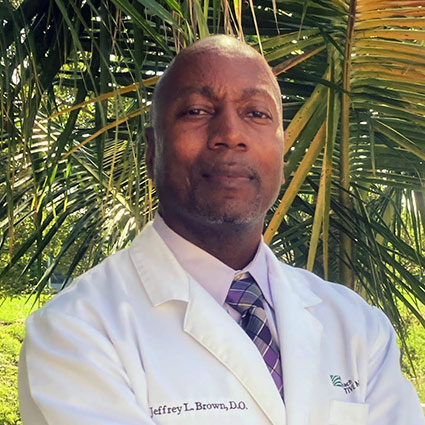 At PGA Chiropractic Health Center, Dr. Brown is passionate about helping patients get out of pain, and will do whatever it takes to get them feeling better. In addition to providing outstanding medical care to his patients, Dr. Brown encourages them on their journey to better health and views himself as a partner, coach, and cheerleader.
Education & Experience
Dr. Brown earned a Bachelor of Arts from Cornell University and a Doctor of Osteopathic Medicine from New York College of Osteopathic Medicine. He did his residency at Jamaica Hospital Medical Center/Mount Sinai School of Medicine – Department of Family Medicine.
"I only applied to osteopathic medical schools because of osteopathy's philosophy that the body has its own healing capabilities. We just have to figure out what the body is missing and what's required so it can heal itself."
Before joining the PGA Chiropractic Health Center team, Dr. Brown had his own functional & regenerative medicine practice in Las Vegas for a while, and then served as the medical director for a hormone replacement clinic here in Florida.
In addition to his experience as an osteopathic physician, he has also practiced anti-aging medicine.
Services Offered
Dr. Brown provides the following services at the practice:
Osteopathic manipulative therapy (OMT)
Homeopathic injections
Regenerative medicine
Functional & Anti-aging medicine
Dr. Brown will help men and women balance their hormones using hormone replacement therapy, and provide treatment for any other issues that require a functional medicine approach.
Lending Helping Hands
Dr. Brown chose to study osteopathic medicine because he liked hands-on training, and he didn't want to be limited to writing a prescription. He wanted to learn how to use his hands to help treat many issues. "I love having the ability to help people with my hands. That's an amazing thing, because your hands are always with you."
Outside the Practice
When he's not caring for patients, Dr. Brown enjoys reading, watching movies, working out, playing and watching sports, and spending time with family, especially playing board and card games.
Book an Appointment
Contact us today to schedule an appointment with Dr. Brown!

Dr. Jeffrey Brown | (561) 775-9111