Dry Needling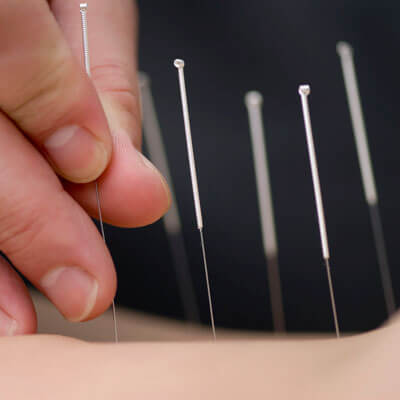 Have you been putting up with acute pain? Dry needling is another effective tool in our toolbox that can get our patients relief. Dr. James Cima is certified in acupuncture/dry needling from the National Board of Chiropractic Examiners (NBCE).
Help for Acute and Chronic Issues
Dry needling can address both acute and chronic conditions. It's helpful for anything where a muscle spasm is causing your pain. When you put the needle through the muscle that's in spasm, the muscle has no choice but to start relaxing. Dry needling allows everything to start calming down in that area, which can give you more pain relief, increased range of motion and a little more strength.
Dr. James will often use dry needling to get to deeper muscles that can't be reached by hand.
Conditions Dry Needling Can Address
Here are some of the many conditions that this therapy can help to manage:
Cervical disc disease
Headaches
Hip pain
Low back pain
Mid back pain
Lumbar disc herniation
Shoulder pain
Elbow pain
Wrist pain
Knee pain
Ankle pain
Neck pain
Understandably, many people are concerned about the size of the needles used with this therapy. They are quite tiny—about a quarter of the size of a sewing needle.
When receiving treatment, we will typically put multiple needles in select areas for about 10-15 minutes. In some cases, Dr. James may place just one needle in a spot briefly and then remove it.
We believe in the power of combining multiple therapies for optimal results. That's why dry needling can be part of a multimodal approach. We always give our patients manual therapy, stretching and an adjustment.
Book an Appointment
Are you tired of putting up with muscle tightness and pain? Experience for yourself the benefits of dry needling in Palm Beach Gardens. Contact us today to schedule a convenient same-day appointment!
CONTACT US »

Dry Needling Palm Beach Gardens, North Palm Beach, Juno Ridge, Cabana Colony FL | (561) 775-9111